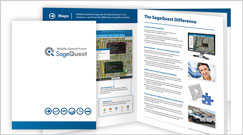 This brochure outlines the core features that make our product a best-in-class solution. Each feature is carefully explained so you can truly understand what our product will do for your business.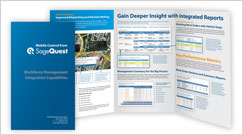 Our integration combines work order information with location information for a more complete view of activity for management reporting.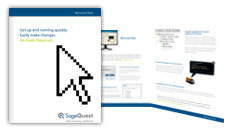 Administration: No Geek Required
Getting new software up and running can be a big problem. But it doesn't have to be. Learn how SageQuest makes it easy to get set up quickly, and make changes as you go without a hassle.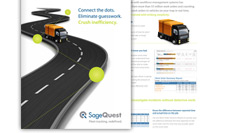 Work Order Integration: Connect the Dots, Crush Inefficiency
SageQuest's integration with workforce management systems has eliminated guesswork from more than 55 million work orders and counting. Learn more about how SageQuest helps solve difficult problems with striking simplicity by correctly matching work orders to vehicles on your map in real time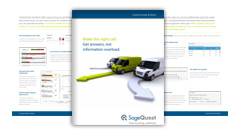 Control Center & Alerts: Get answers, Not Information Overload
Control Center and Alerts make it quick and easy to get the facts about your fleet's performance. You don't have to search for a needle in a haystack – but you can easily drill into detail. Learn how you can use SageQuest to get real time visibility into how your team stacks up – and quickly make improvements and get results.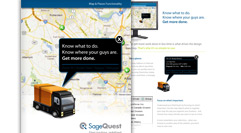 Maps & Places: Know where your guys are, know what to do
Making it easy to get more work done in less time is what drives the design of SageQuest's map. That's why it's so simple to use. Learn how you can know where your guys are, know what to do, and get more done.