Getting Service & Reputation Right the First Time
You only get one chance to make a good first impression in the business world. Mobile Control allows you to complete more tasks correctly the first time and build your reputation, which helps you gain more customers.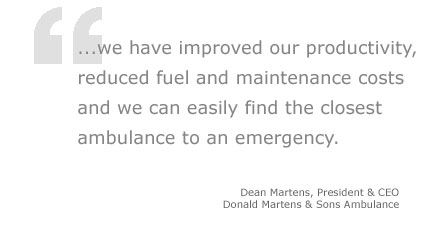 The Right Technician, Right Place, Right Time
A satisfied client will always applaud a professional service tech for showing up on time, but it may be more difficult to achieve when today's timetable is fluid.
Our real-time mapping provides a clear view into vehicle location and status, helping you stay current and provide confident ETAs to your customers
Our Find Nearest feature helps you find the closest qualified technician so you can respond to urgent calls with the right person for the job, ASAP.
Real-time alerts like Late Start let you know when a technician is running behind so you can make an adjustment that saves the schedule—and your reputation.
Reputation Matters
When your firm name is on the side of the vehicle, you risk damaging your reputation during every journey as well as on the job itself. Mobile Control allows you to maintain track of your safety and service reputations in real time.
Stop poor driving before it's too late with alerts on speeding, engine idling, towing and more.
Speeding reports give you more context to prove or dispute a ticket, or create and enforce a speeding policy for your technicians on the road.
Proximity Reports show you when a technician has visited the same location multiple times, potentially fixing problems from the initial call.
Find Opportunities to Expand Service
Are you considering how you might develop your company? Mobile Control offers solutions that can help you find new ways to grow your business.
Use Control Center to find vehicles that average more miles per stop than usual. You could be covering an expanded territory that might need a new office or more resources.
Improved productivity from your technicians will open up the opportunity to do more jobs with the same resources—either from a larger territory or a new line of business.