Complete Your Visibility with an Integrated Back-Office
When your back-office systems communicate with one another on a regular basis, you may pick up a lot of information. Mobile Control is integration-ready, making it simple to see the overall picture of mobile workforce productivity.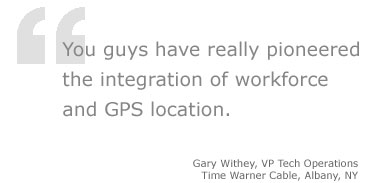 Complement Workforce Management with Real-Time Insight Enhanced Reporting
Is your company's critical decision-making influenced by how well field workers provide status updates? If that's the case, everything from dispatching to resource allocation may be hampered by errors that accumulate as a result of the field.
In order to provide a more complete picture of the situation on the road, our Mobile Control integration with workforce management systems allows you to get an objective look at what's going on and how much time you've spent processing work orders. Our unique approach to link your work orders with vehicle stops enables you to make quick comparisons and obtain more value from both services.
Simplify dispatching and decision-making by seeing your current day's work orders alongside real-time vehicle location on Mobile Control's map. Find the nearest technician to an urgent work order, or see which work orders your technicians are approaching for accurate ETAs.
Our Work Order Variance report highlights discrepancies between the time your technicians reported for their work orders and the time their vehicles were onsite. Supervisors can understand where time is being lost and where status behavior can improve.
The Work Order Summary report improves your resource planning strategy by breaking down work orders by type, helping you understand how long each type of work is really taking each technician, group or region in your operation.
Web Services Make New Integrations Friendly and Flexible
We've also built a successful set of web service APIs that allow Mobile Control to communicate with any system with network connectivity. There's a web service out there to help you accomplish whatever you need, whether it's real-time vehicle location on your existing mapping system, automatically sending Mobile Control driver assignment updates or customer locations, or providing work orders.
Contact the SageQuest team to find out more about how web services can work with your existing systems to complete the picture of your mobile workforce.