Control Center: Team and Vehicle Monitoring
The Control Center exhibits your staff's progress over time. Create standards to match your own objectives, and see how your drivers stack up. Tack problems and reveal potential improvements.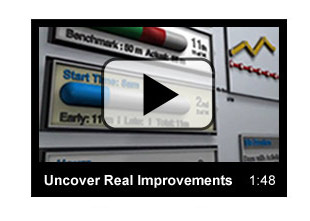 Cut Costs and Lost Time
Control Center lets you match your most important metrics to your drivers over any period of time. Instantly uncover critical details like who has the most idle time, who drives the most miles and who runs late to jobs. Check performance for a single day or for months at a time.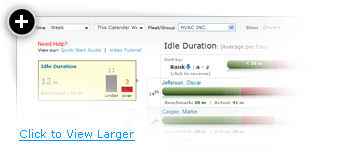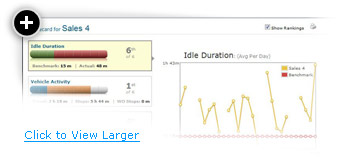 Just the Facts: Performance Reviews Made Easy
Use Driver Score Cards to see how each driver ranks across key metrics. View graphical data in a single view – even compare drivers' stats head-to-head or against their or other teams.
Raise the Bar for Current and Future Success
Create custom benchmarks to monitor your most important metrics. Set and reset goals as business and performance needs change. Reveal driver strengths and weaknesses for coaching opportunities.
Get Instant Driver Reports
Spot trends and opportunities sooner with stop-to-stop vehicle monitoring. Get performance stats for any driver on any day. Control Center gives you one-click access to detailed reports for your whole team