Tired of Trusting the Paper Trail?
If you rely on your drivers and techs to provide you with their time card information, you may be missing out on important details. Mobile Control allows you to get an accurate picture of all activity in the field so that you can pay your employees and charge your clients correctly.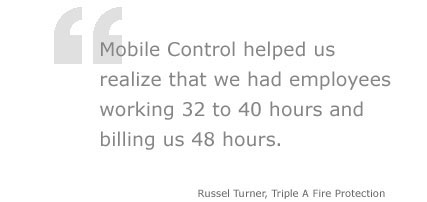 Validate Payroll and Billing with Objective Information
How can you compensate your drivers and experts if they don't punch in at the workplace every day? And even if they do, is it reliable to use their time cards for customer billing?
If payroll is one of your top expenses, inaccurate data might cost you thousands of dollars each month. Mistakes in billing customers based on time cards might have the same negative consequences as incorrect billing: missed hours, disputes over hours billed.
The vehicle's trip log, which records both the miles driven and the time spent traveling between stops, is also important. System has a GPS function that automatically logs the vehicle's location on your smartphone screen while it travels in real time.
Who's completing the most work per day? Use our Control Center to see who gets the most stops or work orders completed per day to create best practices for others.
Administrators can use our Travel & Stops to compare with paper time cards and find discrepancies in stops and on site times.
Accounting and finance teams can use the Travel & Stops Report to audit hours billed to customers and provide reports where discrepancies exist.
Managers and supervisors can use our Control Center's vehicle activity metric to get a quick picture of hours worked per day per driver, broken down between stop time and travel time.
The result is eliminating unnecessary overtime hours and identifying unauthorized use that is taking time off the clock without making money. When a customer questions a bill, the operations supervisor has the objective report to show his technician and the customer what really happened, no need to compare stories.