Real-Time GPS Mapping Links Drivers and Locations
Without keeping your eye glued to the map, you may keep track of vehicle movement. Real-time tracking notifications let you react quickly to — or even prevent — hazardous, costly, and dangerous behavior. When a problem arises, Mobile Control sends you automatic warnings for everything from speeding to towing to delayed starts.
Know Now via Email, SMS or Web Alerts
Put a Stop to Speeding
Set a speed limit and hold drivers to it. Keep your team and trucks safe while reducing fuel and insurance costs.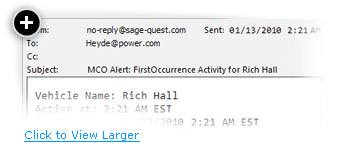 End Excess Idles and Cut Fuel Costs
Stop wasting gas and money. Know when your vehicles are on but have been sitting idle for too long. Real time tracking alerts help you save money and keep drivers moving.
Stay On Schedule With Long Stop Alerts
Proactively manage your team and prevent a chain reaction of delays. This alert lets you know if a driver is running behind or is stuck at a long appointment.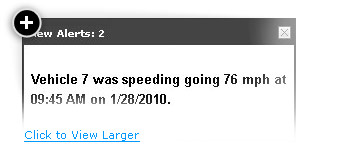 Real Time Tracking Alerts Keep You Informed
Our simple and flexible setup lets you choose which activities trigger alerts. You select who receives alerts and how they are notified.
Late Start: Keep customer satisfaction high by making sure drivers start their day on time.
Activity: End off-hours use and keep fuel and maintenance costs in control.
Towing: Get notified when a vehicle's ignition is off but the truck is moving.
GeoFence: Set the address of a job site, customer location or other place and know when a driver enters or exits.
Vehicle Maintenance: Set mileage, engine hours or date-based alerts to stay on top of service needs.