The Safest Solution for Enterprise Fleets
The global tracking and monitoring of automobiles, or GPS vehicle tracking, is a fast-growing and fiercely competitive sector. Organizations with big and complicated fleets need a partner for the long haul that can grow with them.
Although every supplier that bids for your business makes the same claims, not all of them can keep their promises.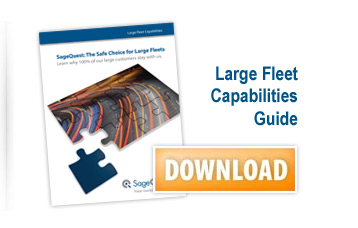 Enterprise Fleets Face Unique Challenges
Large fleets face genuine hazards that must be addressed in order to successfully implement GPS technology. There are several dangers, including ineffective communication, understaffed project management teams, and dispersed staff.
That's why we provide the resources and support your team needs to avoid deployment delays, efficiently install hardware, effectively train employees, and show quantifiable success to internal stakeholders as a result of the project.
Roll-out made easy: With no project management services costs, no hardware costs and a custom implementation plan, you get a solution quickly and at a reasonable cost.
No hassle training: We're not trying to nickel and dime you. There's no additional cost for our personalized training. Just as importantly, training is delivered via the web to minimize disruption and customized to user roles.
A partner for the long-haul: SageQuest is a FleetMatics company, and the largest player in our industry. Our sole business focus is GPS fleet intelligence for mid-large fleets. To back that up, we have 80% YOY growth, so it's clear we're not going anywhere.
Service you can count on: Our award-winning customer service is based in the US and In 10 years of doing business, 100% of large accounts (100+ vehicles) have chosen to renew their contract with SageQuest.
Scalable solution: Some technology providers say their solution is scalable, but we back that statement up with hard numbers. You can track 20,000+ vehicles in one account or view 1,000 vehicles at a time on the map. Additionally, we let you control regional/departmental access without multiple accounts. And, our proven integrations with a wide variety of workforce management systems investments mean you get all the information you need in one place.
SageQuest can help you ensure that your company's GPS vehicle tracking project is a success. Download our handbook right now to learn more about how SageQuest may assist you in making certain your business's GPS vehicle tracking project succeeds.