Keep Customers Safe & Satisfied
When your client is in the car, safety and pleasure rest firmly on the driver's shoulders. To ensure that drivers have the greatest interest of their customers and businesses in mind at all times, passenger transportation firms utilize Mobile Control.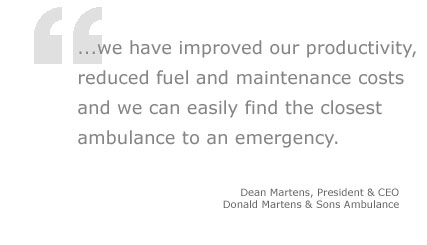 Protect Your Customers and Your Reputation
Safety issues damage your reputation, create huge liability issues and are hard to disprove
Speeding Alerts and Speeding Reports help you manage driving behavior in real time and set policies you can monitor anytime.
Our Route Replay helps quickly validate a claim or provide evidence your driver was operating safely.
Our Exception Report puts together any late starts, long stops, long idles and unauthorized stops into a single, simple view for your supervisors.
Simplify Systems and Processes
Your customers don't want to hear that truck troubles are throwing off their schedules, but managing vehicle maintenance is a hassle unto itself. Your average passenger transport vehicle can spin the odometer for hundreds of miles in a day, so how those miles are driven will determine if your drivers are making you money or just taking it.
Your preventative maintenance program is a paper nightmare, and vehicle failure surprises hurt customers and your budget
Mobile Control's vehicle maintenance capabilities automatically track time, mileage and engine hours to alert your team when a service is due.
Reading a 50 page fuel card bill costs you time and doesn't give you the real answers beyond your expenses
Fuel Card integration matches our highly accurate mileage with your fuel transactions. Get a true MPG for each vehicle as well as the real story behind inefficient driving.
Track gas-guzzling engine idle time with our real-time alerts, our Management Summary report or our Control Center.
The Vehicle History feature replays a route so you identify inefficient driving between stops.
Promote GPS as a Competitive Advantage
How can you stand out from the crowd with a van and an 800 number in your highly competitive market? Our passenger transportation clients tout the fact that they provide GPS vehicle tracking as a benefit over their rivals. Customers may soon request GPS technology if it becomes more well known.