Right-size payroll costs with the SageQuest TimeCard
When it comes to payroll, even small errors can be quite costly. If your drivers make $20 per hour and work 15 minutes each day, that's more than $100 in extra payroll every month – and there are plenty of manual, time-consuming processes in the process.
The SageQuest Timecard is the most efficient method to keep track of time for today's mobile workforce, and it works in much the same way as traditional paper timecards. The major distinction? You'll be completely confident that paid time equals worked time – and that it's flexible enough to record timen regardless of how you pay your staff.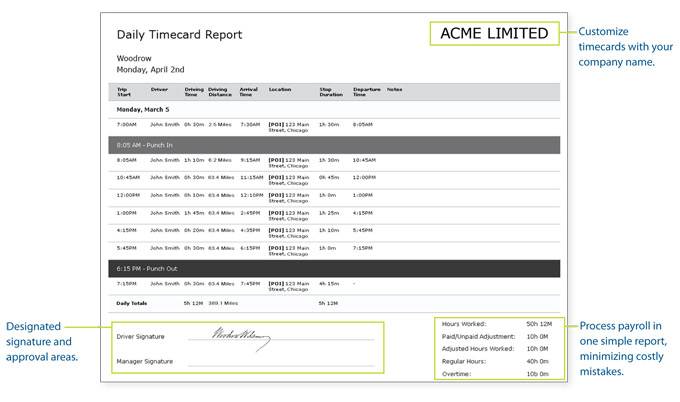 Be sure time paid is the same as time worked.
SageQuest tracks on-the-clock time based on vehicle location data so you can be sure that payroll is accurate.
Trim down steps from the process.
All your technicians have to do is sign and make any needed notes. All administrative staff have to do is hit print. Or "set it and forget it" - it can be emailed directly to drivers.
Make it your own.
Your timecards will be customized with your company name, and you can use simple rules to define how you record on-the-clock time.
Flexible reporting
Run Daily Timecard, Weekly Timesheet, and Payroll Summary reports over customizable timeframes.