Automated GPS Reporting Keeps You Informed Even When You're Offline
Imagine being able to look behind the scenes at your team's performance. What if you had instant access to key information about speeding, time cards, and late starts? Mobile Control's automatic GPS data allow you to do so. And, best of all, the information is sent to a single location – your inbox.
Travel & Stops Report Ends Timecard Frustration
Automatically track stops, idling and miles and time traveled. Use this report as team timecards instead of battling paper logbooks and reports. Get the details you need for all your drivers in a single location.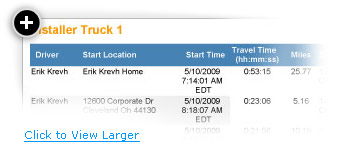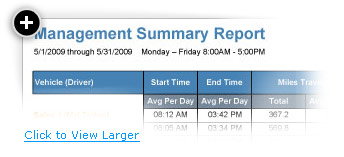 Management Summary Report: Key Metrics in a Glance
Get a full summary of your most important measurements. Compare totals and averages across groups or your whole team. See stats for idling, travel time, stop time, start/end times and more.
Spot Policy Violations With the Exception Report
Respond to vehicle violations and out-of-policy activities faster. This report displays speeding, long stops, weekend movement, late starts and early finishes. Avoid extra expense and wear and tear on your vehicles.
Automated GPS Reports for Any Business Need
Whether you're looking for a high level snapshot or a detailed history, our reports provide the information you need. Learn about other GPS reports and tracking solutions we provide below.
Real-Time Mapping for a Clear View
Additional GPS Reports in Mobile Control:
Speeding: Set speed limits for your team and see which drivers went over the limits
Maintenance: View repair and maintenance details that are scheduled or have been completed
Fuel Efficiency: See the gap between the fuel efficiency of your vehicles and what the EPA estimates their efficiency to be
Fuel Slippage: Identify fuel card abuse by connecting the vehicle's location with the card's location
Carbon Footprint: Gauge your progress against a carbon footprint benchmark you've set