Keeping Drivers On Time and Under Budget
Keeping your drivers on time is crucial to ensuring that you keep up with your clients. Maintaining a positive reputation and lowering expenditures per mile are both part of delivering for your company.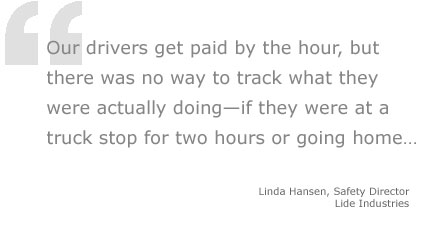 Take the "E" out of ETA
Isn't it time you had the correct response for a client waiting for their delivery to arrive? It may determine whether or not you get the chance to serve that person again.
ETAs for customers aren't reliable and require disrupting drivers for updates
Mobile Control puts you in the driver's seat for every delivery, using real-time mapping for accurate ETAs without disrupting your drivers.
Put GeoFences around key customers and get real-time alerts when your drivers arrive or leave their locations.
Our unique Invite to Track feature lets you send your customers a web link to check progress on a delivery.
Our Garmin integration keeps your drivers on the shortest route between deliveries and helps with new hires who don't know the area or have a new route.
Put Your Budget in the Bank, not the Fuel Tank
While it may seem easy enough to keep tabs on your car's mileage, there are several factors that can throw a wrench in the works. Keeping track of your vehicle's mileage is not simple since average delivery vehicles can spin the odometer for hundreds of kilometers in a day. Fuel usage and mileage across state borders might be difficult to monitor.
Reading a 50 page fuel card bill costs you time and doesn't give you the real answers beyond your expenses
Our Fuel Card integration capabilities match our highly accurate mileage with your fuel transactions for a true MPG for each vehicle as well as the true story behind inefficient driving.
Track gas-guzzling engine idle time with our real-time alerts, our Management Summary report or our Control Center.
Our Route Replay shows you the exact route and stops that your driver took over the course of a day, making it easy to understand where he went without running a report.
Gathering information for fuel tax reporting requires a lot of odometer checking and manual logs that are painful to manage and use in audit situations
The mileage data compiled by our device is calculated every second, ensuring a reliable number that doesn't require a calculator and spreadsheet to track.
Mobile Control's Mileage Report takes the burden off of your drivers and your maintenance team by breaking down mileage by state IFTA jurisdictions and our Travel & Stops Report or GPS history data can be used for trip-level details in the event of an audit.
Speeding damages your reputation on the road and creates liabilities you can't afford
Get real-time alerts on speeding incidents that exceed your safety threshold and review our Speeding Report to enforce policies and measure progress.